If you want to buy a new garage door, but are unsure what to do, this page will try to help inform you.
What type of door?
There are four types of door that most people would consider, Up and over, side hinged, sectional and roller styles. Each style has its advantages and disadvantages, which we will give a quick summery of.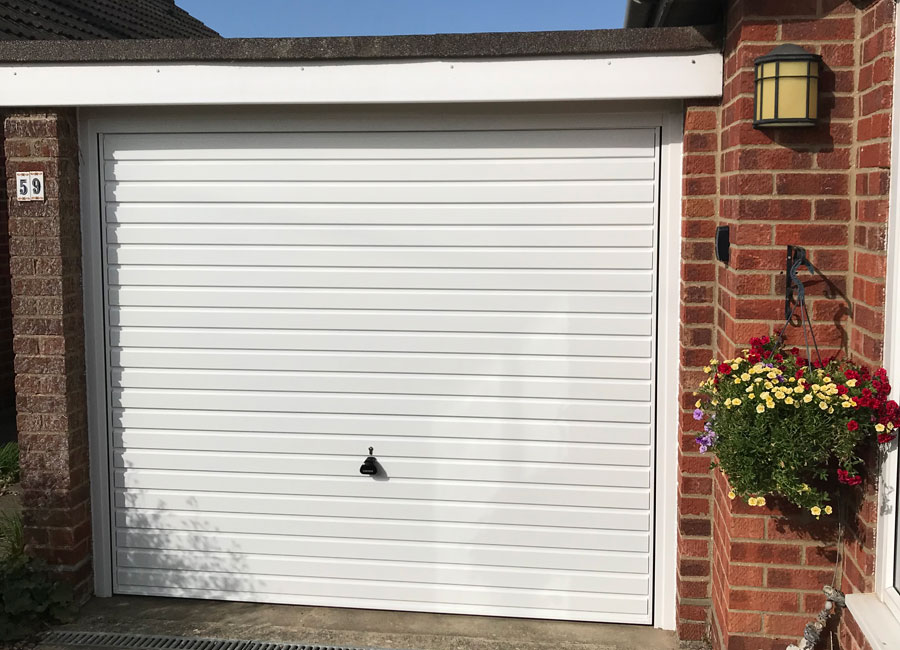 Up and over doors
These doors are 1 single panel,in single or double widths, made of steel, PVC, timber and GRP. they come in the largest choice of styles, can be manual or electric, are the best value when you consider their expected working life to cost ratio and the most commonly fitted door.The disadvantages of these doors are they are not insulated or draught proof, swing out at the front and enter the garage when open.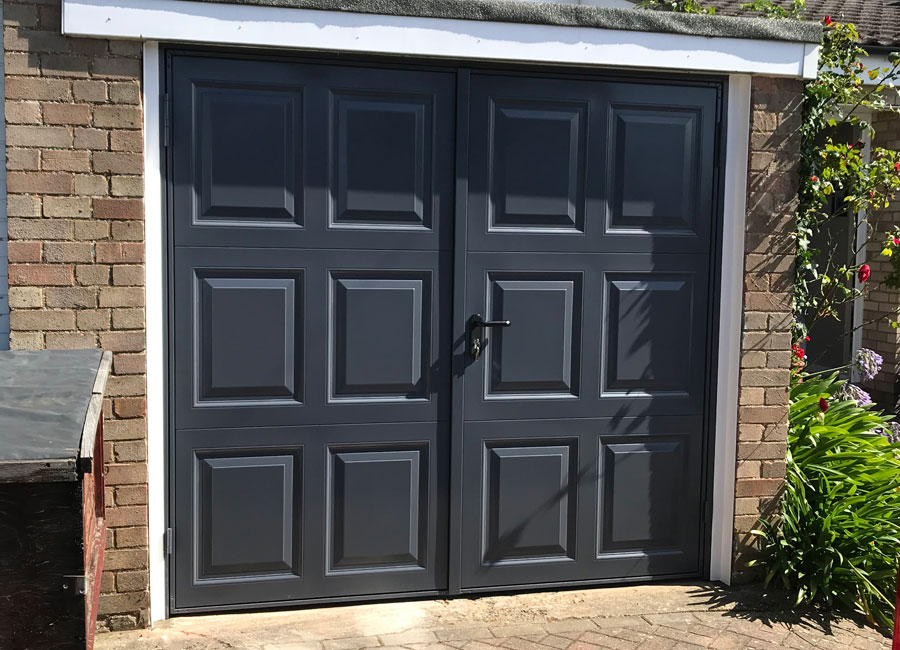 Side hinged doors
These are a pair of horizontally opening doors, best suited to garages that do not have a car stored in them. the main advantage being, only one third or a half of the total opening needs to be opened to gain access and there is no lifting involved. the dis advantage of these doors are they need a large amount of space in front and are only available up to 8′ wide.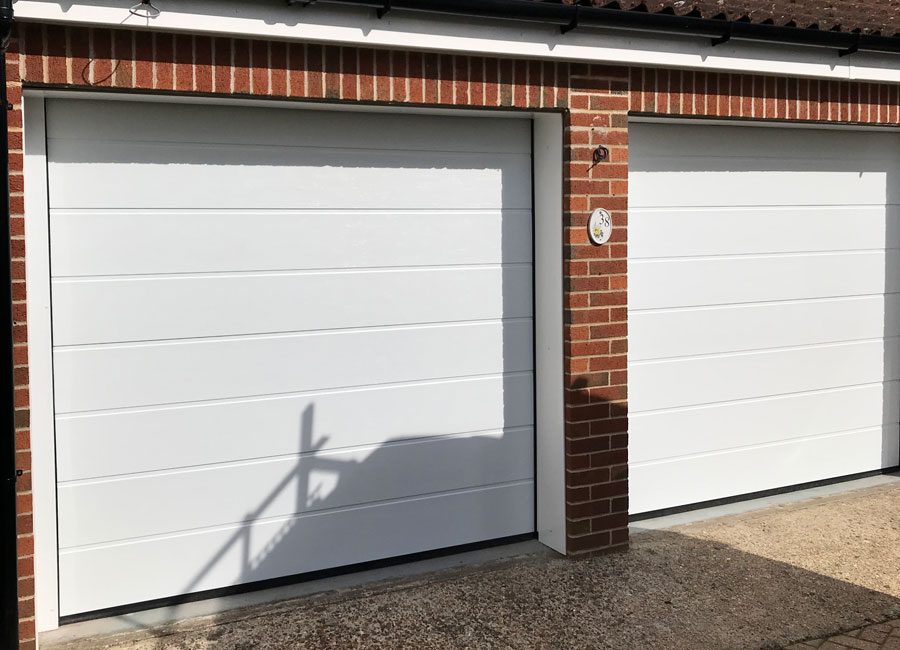 Sectional doors
These are 4 rigid panels on top of each other, that travel vertically up and down that lay parallel to the ceiling when inside just like an up and over. These doors can be manual or electric and are the only true warm door with draught proof sides, top and bottom,and 42mm thick insulated panels.They come in traditional or modern styles and the widest range of colours. The only disadvantage is they take up space inside the garage.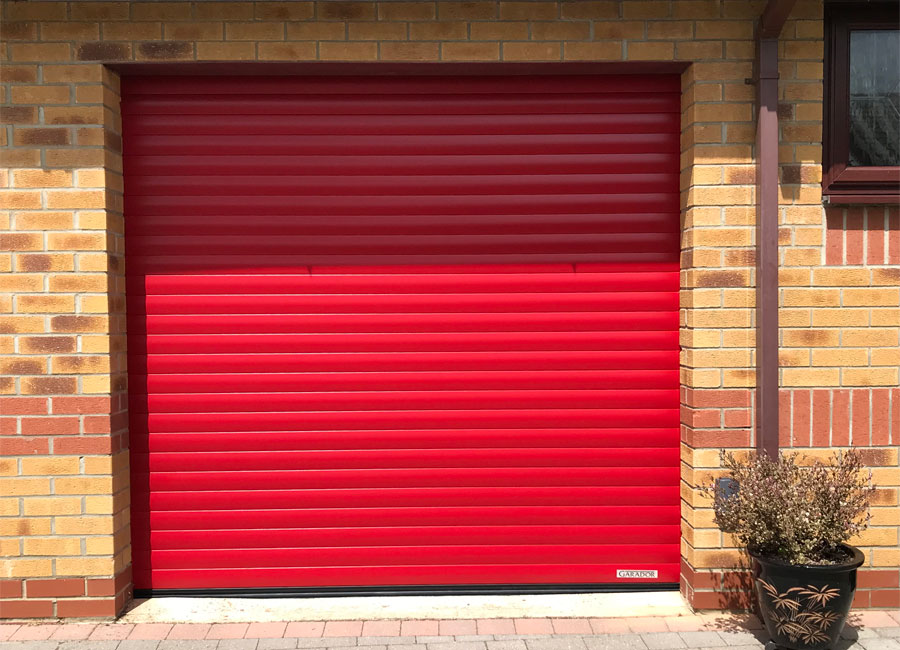 Roller doors
As the name suggests they are a curtain of slats that roll around a beam at the top of the opening, travelling in a vertical action. This style of door allows for draught proofing, some insulation value and no projection inside or outside of the garage making it very neat. The downside of roller doors are they come with a huge range of prices and quality, and therefore hard to compare, because they have a large amount of moving parts are more susceptible to wear over time and the front surface may scuff over time where it rolls up.
Which make to choose?
The make of door will determine the quality of the construction and after sales backup, which in turn will make the door value for money or not. The fitting costs of a cheap door are the same as for a good door, so bear this in mind and choose a manufacturer with a good reputation, readily available parts supply and a long trading history.
Which fitting company?
If you want a top quality garage door installation, you obviously need a company that specialises in garage doors. A few simple things to look for in a company are, do they specialise in garage doors or do they do them as part of a wide range of services, can they offer you advice based on your requirements, not on what they want to sell you, how long have they been trading as the current business, who will they send to fit the door and what is the fitters experience, and obviously ask friends and family who they have used and would they recommend them.
Although there are different reasons for door purchase and different requirements of the door including style, usage and budget, I hope this quick guide to help you choose a suitable door that will last many years.